With a lot of hours personal work, with attempts of administrative Council of club, as well as the support of State, were equipped Lefka Ori with four shelters. A few words for these below:

1) In 1958 constructed in the place Volika above the village Kambi Keramia the homonym shelter in altitude 1.450 meters. It accommodates thirty persons. Recently they began work of improvement and maintenance and were renewed part of its equipment. Its distance from the village is 3:30 hours path way.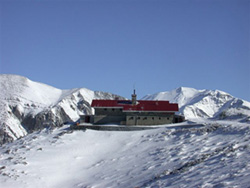 2) In 1970 constructed the shelter Kallergi above plateau Omalos , in altitude 1.650 meters. It accommodates 45 persons ,it has enough comforts .It is in excellent situation because of the help of Austrian alpinist club of "Innsbruck" that the summer times promotes walkers via the shelter in the Lefka Ori. It is 5 km distance (dirt-road) from Omalos plateau 1:30 hours pathway.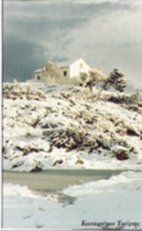 3) In 1992 was inaugurated the shelter Tavri which the construction had began before 4 years. It is above the village Ammoudari of plateau Askifou Sfakion in altitude 1.200 m. There is dirt road 7,5 km distance from the Askifou. The path that connects the village with the shelter cross through the forest. The way is 1:30-2:00 hours. The shelter accommodates 45 persons and it's comfortable. Every year become camps for children, but also for elderly persons.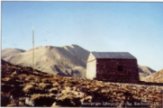 4) In 1994 it became action a dream of a lot of years. The shelter of Svourihti in the "heart" of Lefka Ori, in altitude 2.080 m. A construction with stone externally and wood internally. From the village Anopoli it is 7 hours walk, if we use dirt road with car until Ammoutsera plateau the course is decreased in 2:30 hours. Also it can be reached from Kallergi or Volikas to Svourihti shelter.It can accommodates twenty persons.